This essay is reproduced here as it appeared in the print edition of the original Science for the People magazine. These web-formatted archives are preserved complete with typographical errors and available for reference and educational and activist use. Scanned PDFs of the back issues can be browsed by headline at the website for the 2014 SftP conference held at UMass-Amherst. For more information or to support the project, email sftp.publishing@gmail.com
Seveso: Zona Infestata
by Paolo Strigini & Annamaria Torriani-Gorini
The main source for this article has been a 158-page issue of Sapere (December '76), edited by G. Maccacaro, published by "Dedalo", C.P. 362, Bari, Italy, 70100. Crucial information to corroborate some of the major points also comes from two first-hand, critical accounts in English: one by B. Commoner (Hospital Practice, Nov. '76, p. 39 and May '77, p. 31) and the other by Hayes (Nature, Aug. 19 '76, p. 636 and June 2 '77, p. 384). After this was written, a very interesting and long article dealing with hazards due to 2,4,5-T production and use in the U.S. and the history of the controversy between producers and regulatory agencies, including a detailed account of what happened in Seveso, appeared in the New Yorker (T. Whiteside: July 25, 1977). Science has only printed a glib note on Seveso (July 8, 1977, p. 143), which prompted a letter by the authors of this article. Thanks are due to R. Boughman, for discussing with use his impressions (from the experts meeting in Rome in April '77) and for his technical comments, to G. Cattoretti (University of Milano Medical School) for invaluable information and insights, to M. Lowe, for reviewing our manuscript, and to many others. 
Paolo Strigini immigrated from Italy in 1965, and has been working in this country as a molecular biologist. He has been involved with the movement in the US and is now looking for a nonacademic job in environmental economics. Annamaria Torriani-Gorini, with Luigi Gorini, fought for the right to do science in a society free of fascist, racist and sexist bias in Italy, France and the US. She is a molecular biologist at MIT, now an Associate Professor after a long struggle against a conservative, male-dominated university.
This article is dedicated to Giulio Maccacaro (1924-1977), an Italian fighter toward science for the people.
---
At 12:40 p.m. I was having lunch with my family in the backyard… My wife was making coffee and we feel a beastly stink… I said, let's go inside, that one can't resist… Ten days later they say it was dioxin. So we could have died ten times… 
The health officer said, it's nothing, it's nothing. Someone who has worked twenty, thirty years to build a house for himself, I don't think will leave it like that… for this dioxin… if it's really there.1
On July 10, 1976 in the early afternoon a stinking cloud invades the air of Seveso, a small industrial town ten miles north of Milan, Italy. In the nearby town of Meda an explosion has occurred at Icmesa, a chemical plant which produces cosmetics and other products. For at least two generations the people in the area have been used to the worsening fumes and noises of an advanced industrial society.  Similar accidents have happened before. If here and there a few trees or vegetables, a few chickens and rabbits or even a sheep (there aren't many sheep around any longer) are poisoned, sometimes a little cash refund may be obtained after litigation with the nearby firm. 
People in the area know that nature and the products of the soil are polluted, that air and water are no longer the way they used to be. But the polluters are their main source of employment. The traditional textile and wood family crafts and shops have been replaced or transformed, while agriculture — except for its backyard variety — has all but disappeared. About seventy-five percent of a work force of 50,000 is employed in manufacturing (Italian average: 35%, quite comparable to the U.S.A.), mostly in furniture, mechanic, chemical and textile shops.2 Most inhabitants are working class subarbintes with large nuclear families. The age composition is skewed in favor of young adults in the productive age due both to a moderate, but steady flow of immigrant workers since the fifties, and to a consistently shortened life expectancy. Death rates in the area (adjusted for the age composition) between 1951 and 1971 have been around 15% higher than the national average,3 which includes areas where medical facilities are much less developed. In spite of this heavy toll, presumably due to pollution inside and outside factories, population has been growing in the same period three times faster than the national average.4 People come here because these are cheap suburbs, offering a variety of jobs and opportunities. 
Small Is Beautiful?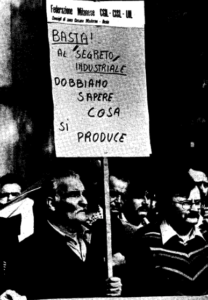 In this past of Milan's outskirts only three plants employ more than a thousand workers and a few, like Icmesa, around a hundred.5 The average size of manufacturing firms is below ten employees here, while it is about thirty in Italy and sixty in the U.S.6 Not all these shops are indeed autonomous. Icmesa, for examples was bought in 1969 by Givaudan, a Swiss firm affiliated with the Switzerland-based multinational Hoffman-La Roche, a big vitamin and drug seller. lcmesa employed 97 workers, mostly unskilled and growing older, and 44 technicians and administrators, mostly young and inexperienced.7
The northern outskirts of Milan seem a far cry from those underdeveloped countries where multinationals, such as Hoffman-La Roche, often set their plants. Its inhabitants are stable and relatively prosperous suburbanites, traditionally allied with the Christian Democrats, the moderate, socially heterogeneous coalition—supported by small and big business—that has ruled post-war Italy to the present. While this dominant party, ridden with scandals and inefficiencies, suffered a substantial setback in the last national election (June '76) and lost all the large cities and several regions in the country, it has maintained its full grip on this area and an uneasy control on the region. A generally conformistic outlook, bred by recent memories of poverty and by a traditional Catholic upbringing, and a total dependence on the precarious fortunes of small business make the inhabitants an easy target for political and economic blackmail. 
A Poisonous Cloud 
Here comes Professor Trabucchi, and says that he will come in and drink our milk. How come a professor says this and then … we are told we must drink nothing. or take nothing from the garden … They say there is just one A zone and we must evacuate like everybody else.8
On July 10 the cloud generated by the explosion at Icmesa fell on Seveso, while a persistent acrid smell of phenol quickly reached Milan. Local police were informed of the explosion; on the following Monday, July 12, lcmesa's management also informed the local authorities with a letter which became famous:
An unaccountable chemical reaction … broke the safety valve discharging a cloud of vapours which, after hitting the trees inside the gates of the factory, was pushed by the wind toward Southwest and soon dissolved … As we cannot assess the substances carried by such vapours nor their specific effects we have taken care to contact our neighbors, so as to prevent consumption of orchard crops, since we know that the finished product is also used for herbicides.9
This letter persuaded the authorities that the possible presence of some herbicides was the worst hazard to be expected from Seveso's cloud. The cover-up, helped and prolonged by some officials who should have known better, lasted ten days. On July 13, Dr. G. Ghetti,10 a local health officer, based his report to the regional health authorities on the lcmesa letter, transmitting the misinformation almost word-for-word. After animal deaths and the first skin rashes in children were reported (July 15), Dr. Ghetti allegedly sent another letter (no phone call), which apparently took five days to reach Milan, ten miles away.11 Later, while dozens of people were suffering from poisoning, Senator (Christian-Democrat) G. Trabucchi, professor of pharmacology at Milan university, addressed a local community meeting with reassuring rhetoric: "I will come and drink milk in your homes." Mr. Jann, the general director of Hoffman-La Roche, warned on the Swiss TV that "Italians, and especially the women, are always complaining: everybody knows that Italians are a highly emotional people … Capitalism means progress and progress may occasionally bring some inconvenience."12 13
Up to July 23, the official rhetoric was "everything is under control"; regional health department chairman, Dr. V. Rivolta, merely cautioned people not to eat fruits and vegetables and children not to play with dirt.
On July 18, however, under pressure from the union locals, Icmesa had been finally closed by order of a local judge; the next day a nearby textile plant, employing a hundred women, was also shut. A delegation from the regional government was sent to Switzerland to inquire and came back on July 20 with the name of the probable poison: dioxin. 
July 23rd, the day that "everything is under control," G. Reggiani, director of the Roche Research Center in Geneva, urged evacuation of the area and warned against dioxin's hazards. Three days later, an official letter of Hoffman-La Roche from Basel confirmed such "warnings and recommendations and provided the first data. The same day, the regional government ordered evacuation. On July 27, two and a half weeks after the explosion, the first children were finally moved out. 
By the beginning of August, about 800 people had been removed from the area southwest of lcmesa and placed by the government in nearby motels. The mass of conflicting statements left evacuees bewildered; homesick and skeptical about the hazard, many tried to go home. The army was called to garrison the Seveso area and to start the clean-up. Givaudan, whose lax policies were responsible for the mess, was, incredibly, put in charge of supervising clean-up operations. 
The Ordeal of the People
Dioxin's international fame started with the Vietnam war,14 15 but that experience was largely ignored outside Asia. Almost half South Vietnam's fields and forests were sprayed with defoliants, resulting in ecological damage that will take fifty years to repair and in probable exposure to dioxin—100 times more toxic than cyanide—of 1.3 million people. Among the less disputed diseases in Vietnam attributed to dioxin are disfiguring skin diseases, persistent weakness of eyes and muscles, liver poisoning and cancer, high rate of miscarriage and infant malformations. Insoluble in water, dioxin remains on the ground unchanged for years. Its most serious effects can be expected over a long period and their causal relationship with the poison is difficult to establish.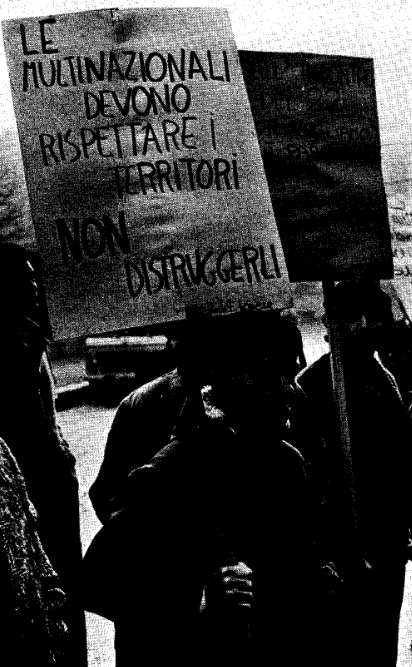 Difficult problems of public health were raised by the dioxin cloud from Icmesa, such as mapping the poisoned area, assessing people's degree of exposure, gathering medical personnel and facilities for counselling, diagnosis, and treatment. In the case of pregnant women, another issue overshadowed such problems: the right of these women to abortions. A few months earlier, a national referendum to repeal an old-fashioned and rigid anti-abortion law had forced the Italian government to liberalize abortion to some limited extent. Loopholes, tradition and the Catholic hierarchy stood against application of the law. Only a few hospital facilities are in fact available for such treatment, due to the opposition of many medical directors who owe their positions to local right-wing politicians and due to the resistance of many nurses, often trained in Church-run schools. 
The question of pregnant women and dioxin was argued with furor at all levels: scientific (is there real, solid evidence for abnormal births?), religious (should Catholics accept a human-made disaster as God's will?), economic (a subsidy for handicapped infants would have been available: how much?) and political (a special law for Seveso?). The archbishop of Milan let it be known that pious couples, solicited by the church, had offered to adopt the little monsters who might be born.16 17 This offer was possibly a factor in persuading even the most traditional women that the risk was real. On August 11 the regional health department officially recognized that dioxin causes malformation in animals and therefore the same occurrence cannot be ruled out in humans. Providing legal grounds for abortion requests did not end the ordeal of the women. Many physicians took it upon themselves to establish in each case whether a woman seeking abortion was not in fact moved by immoral motivations. 
Hurt, bitter and angry women told a news conference in October some of their experiences. 
They took me in for the obstetric visit and they were questioning me, why did I want an abortion. I told them it is so scary because of the dioxin and they kept asking whether we are all well in the family . .. I told them I am so scared, also because my husband is in a sanatorium with TB [Possibly an occupational disease]. That was it: they stopped asking. Then they snapped: 'If your husband is in a sanatorium, how did you become pregnant?' I told them he came home for the weekend. 'Ha!,' they said, 'so he gave you this nice present!?' At this point I was going to swear, but instead I kept quiet.
. . . . If babies are not the way they should be, they give us a subsidy or something for child care. But if I have a baby and it is not normal and it is sick, what can I do? Shall I hit this other child over his head? [so as to be free to take care of the abnormal baby]18
After much delay, confusion and secrecy, an outpatient community clinic which treated people with more respect opened at Seveso in the local school, on August 2. From here, women were channelled to a private hospital (Mangiagalli), where the staff also treated them with the respect and attention they deserved. Provisional and incomplete data from the "Mangiagalli" offer a chilling glimpse of the situation. Between August 2 and October 15, 22% of 182 pregnancies ended in spontaneous abortion, compared with a usual local rate of 12% (15% in factory workers). Less complete statistics tend to confirm earlier fears: eight infants with various kinds of birth defects were born between February and June of this year. 
Despite the Catholic anti-abortion furor, 28 women chose and obtained therapeutic abortions. Other hundreds, not included in the statistics, chose to live their pregnancy in anguish or to purchase a clandestine abortion. These women were among the first victims of the tragedy that hit a society in which they were second-class citizens. 
Mapping and Reclaiming the Disaster Area 
The first visible consequence of dioxin poisoning is chloracne, a skin disease which hits small children most severely, but also affects heavily exposed adults, such as factory workers. Chloracne is not a minor ailment, sometimes lasting for years and resulting in permanent disfiguring. Between three and six hundred children with chloracne—the diagnosis is not always easy—were reported as of April '77, many in Seveso within two miles southwest of Icmesa, but also spread around in an area of about 20 square miles, inhabited by 100,000 people. As chloracne is largely due to individual skin response to chloro-carbon compounds, absence of visible symptoms does not rule out other medical risks. Therefore, mapping the area of dioxin fallout was an urgent and crucial task that could not be achieved on the basis of the damage already visible.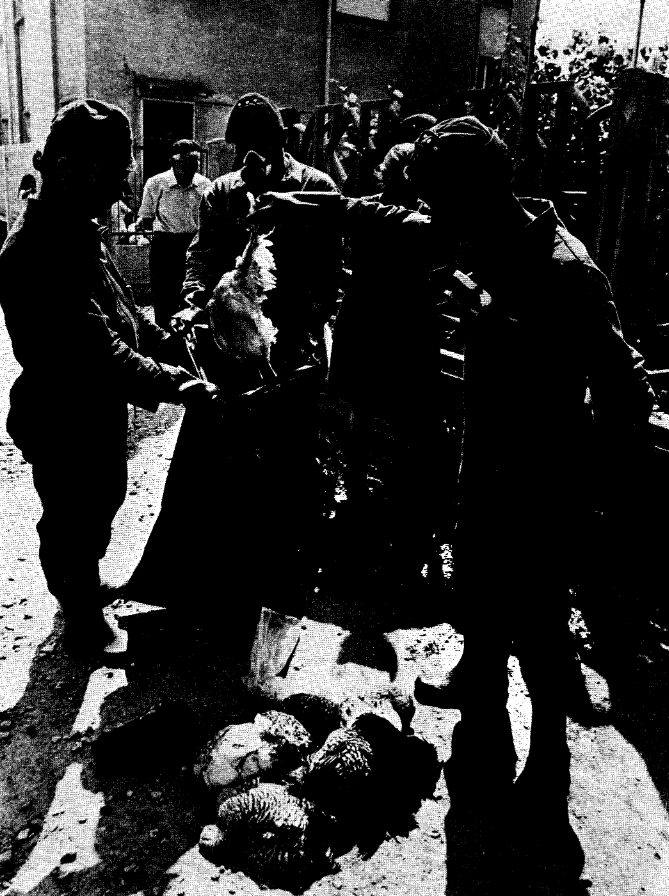 Unlike the clouds spread over Vietnam, Seveso's cloud contained a very high concentration of dioxin and very little if any defoliant, which made it harder to identify the fallout area, since plants are not at all affected by dioxin. Three zones (zone A, B and R) of decreasing pollution and risk were established, using aerial infrared photography, meteorological data concerning the cloud and the first soil samples analyzed. Total evacuation was ordered in zone A; specific or general precautions and vigilance, in zones B and R. 
The mapping of the dioxin fallout, a difficult and time-consuming task, is still incomplete. Although techniques used are adequate for mapping purposes, a more sensitive method is required (and available) to detect lower levels of contamination (as may occur in human milk). Hence, new cases of chloracne have been reported for several months after the explosion even outside zone R, prompting new soil assays, which have revealed a wider spreading of the poison than was at first recognized. 
For gathering and interpreting official data—which were often kept away from the public and from independent scientists—the local authorities relied on private research groups, who were linked to the very industries responsible for the pollution and who never visited the area. They courted the U.S. military, thought to possess a secret, perfect technical solution to their problems (as they used so much dioxin, they should have known how to handle it). "The farther away, the more expert they are;' commented the local people: clearly, it was not mere geographical distance. When a miracle cure for dioxin failed to appear, the same officials who had denied the danger accused the scientists of having generated false optimism and hidden the gravity of the situation. "Technical reasons" were invoked to avoid or postpone urgent, practical decisions. No one in authority wanted simply to be in charge of cleaning up the mess. 
The mess was considerable. All small animals died soon after the explosion and all the surviving large ones, in zone A, B and R, were found contaminated and ordered slaughtered in January. Four thousand dead animal bodies stored in sealed containers under alkali and countless plastic bags filled with contaminated leaves and dirt, quickly collected by government personnel, are still littering the A zone. More litter is being constantly accumulated, as the map of the poison grows more accurate and large. Some litter, with a spirit of vengeance, has been stored within Icmesa's gates for the managers to dispose. 
Some collected contaminated material has caught fire, increasing pollution and exposure risks: trichlorophenol, one of the main components of the cloud, is spontaneously condensed into dioxin, at temperatures between 500 and 600 degrees Celsius. Domestic cleanings with water, detergents and petrol—rather than neutral soap, as recommended by the Vietnamese—have also caused new victims. The total amount of dioxin fallout—which can only be calculated indirectly—is estimated at somewhere between one-half kilogram and 100 kilograms. About 20 kilograms of the poison enough to kill millions—are said to be still in the factory's reaction chamber. 
The Ministry of Health assembled an international committee of scientists in Rome in April '77. Instead of Matthew Meselson, perhaps the best-known expert on dioxin poisoning, who became famous for his fight against the Pentagon's experts during the Vietnam war, they invited a Nobel-prize-winning chemist who knows probably nothing about dioxin, except what he may have learned by sitting on the board of directors of Dow Chemical. Since the experts soon realized the impossibility of burying and sealing safely everything that was contaminated the dioxin had to be destroyed. The best technical remedy seems to be incineration, which requires removing the topsoil from the whole fallout area and burning it in special sealed ovens for at least half an hour at 1,000 degrees Celsius. Lower temperatures would risk producing more dioxin (from trichlorophenol), rather than destroying it. It has been calculated that 100,000 metric tons of dirt would have to be incinerated, with an estimated cost of $100 million, which does not include the value of what would be burned, including the buildings and everything they contain. This solution is being presently implemented by the Pentagon for disposing of its dioxin-containing war stocks. Risky as this solution is, delay may be more risky, so the Italian government plans a complete reclamation of the area, except for the most heavily contaminated parts of zone A, by the end of the summer. 
A major uncertainty is the extent to which dioxin may already have spread out of the original fallout area. Although insoluble in water, dioxin is not necessarily forever immobile on the ground, as it can be mechanically transported by water, as well as by animals and people. During the fall it rained heavily and the swollen Seveso river, which crosses the area, provoked floods as far as downtown Milan. Alarming amounts of the poison have been detected in river sediments. No one knows how much dioxin will reach the regional water system, used by ten million people. Monitoring fishes and other animals, probably the best way to find out, was recommended in August by the Vietnamese. No solution, however, at this point can be perfect. The ten-day delay on the part of the Icmesa managers and owners in disclosing the hazard and the consequent indecisive—at times, outrageous—conduct of some government officials have already caused a prolonged exposure of thousands. Furthermore, the explosion itself was probably not an unpredictable accident, but the result of criminal carelessness on the part of the corporate capitalists and the government. 
Chemistry in the Real World
A group of workers, technicians and scientists from a large state industrial research center near Milan has researched, with people from Seveso, a revealing account of the production cycle during which the accident occurred.19 The report describes the technical characteristics of the chemical reagents and of the equipment used to convert TCB (tetrachlorobenzene) into TCP (trichlorophenol). The report also analyzes the chemical reactions involved and the economic reasons for the various industrial patents, such as Givaudan's, Rindgewood's and Dow Chemical's. Demand for TCP is high, especially in Europe and the U.S., for the production of several defoliants for agricultural and military use and of disinfectants for the drug industry. 
The production cycle of TCP basically consists of four steps: (1) alkaline hydrolysis of TCB into SodiumTCP, (2) acidification of the latter into TCP, (3) separation and purification of this product and (4) recovery of the solvents used in the first step. The yield of the reactions that lead to TC P depends mainly on the conditions during the first step, such as duration, temperature and amounts of solvents present. Such conditions, however, also determine the rate of undesired side-reactions which produce impurities, such as dioxin. Economic and political factors are generally ignored in textbooks, political factors in patents and human work in both. Chemical processes are usually presented to students as nature's own work and to industrialists as recipes, to be followed by impervious robots. These attitudes, according to the report, reflect both the capitalist ideology of science and the capitalist production system.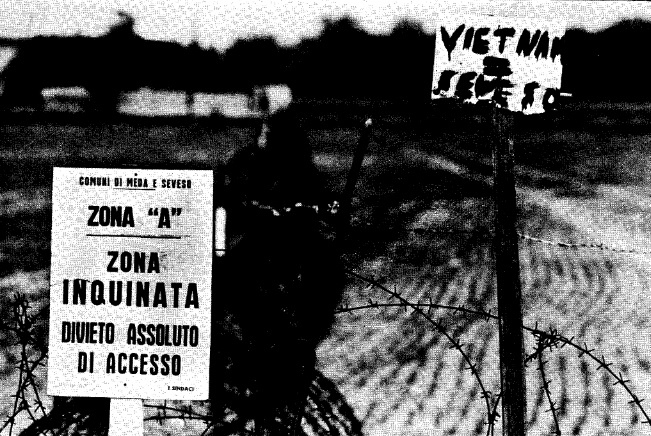 Industrial chemistry comes alive as the report20 describes in detail, among other things, the job of the shift worker and the daily laborer (three skilled workers in three shifts around the clock and one unskilled, from eight to four) who handled the crucial equipment at Icmesa. The first shift worker, who has already prepared and checked the equipment, starts the cycle at 8 a.m. by injecting 3,000 liters of organic solvents into the chamber. He then opens the huge lid, after rechecking all the valves, and makes sure that a slight negative pressure is maintained as he helps the daily worker to load it with the dry reagents. The two, standing on a mobile platform, tear open with a knife, and then pour into the chamber, 47 fifty-kilogram bags of caustic powders. By the time loading is over and the lid closed and checked, it is time for lunch, but the daily worker has still to wash away the spilled powder, by splashing the floor and the equipment with a water jet pump, possibly while nibbling at his sandwich. The water left on the concrete floor dries "naturally," the rest is discharged into the sewage through a purification device … which has been broken for a year. Most water discharged from other parts of the plant, carrying organic solvents and other toxic chemicals, goes directly into the sewage or the fields, with not even the good-will intermediary of a broken device. 
Although these workers appear to think and operate like Ph.D.'s in chemistry, no Ph.D. is required to understand that at some point something may easily go wrong. By examining further the job description and the chemistry involved, however, one realizes that both the causes and the consequences of what in fact went wrong had been built into the technical scheme. 
Besides using equipment that had been constructed and previously used for a different purpose, the lcmesa management had introduced improvements in the process, as described by the Givaudan patent. The most important one consisted of recycling the expensive solvents during the first step rather than at the end of the production cycle. Such an "improvement" allowed the firm to save solvents and use fewer workers. Unfortunately, this also meant that, because the mixture was less diluted, temperature changes could occur more quickly and run out of control. Further, as the temperature increased, dioxin formed faster. One such "unaccountable chemical reaction"—in the words of the Icmesa management—must have occurred on July 10, 1976. Not only was an explosion very likely to occur, but in such a case the cloud over Seveso was entirely predictable, since the safety valve for the most dangerous step discharged in the air, over the rooftop of the plant. 
Legal Responsibilities
The reasons for the position of this discharge valve are easy to imagine,21 22 as minor accidents, given the technical set up, must have been rather common at this particular step. If the valve had been inside, minimal spills of dioxin would have heavily affected the workers. The existence of a chemical hazard could no longer be kept secret from the workers, the unions and the labor department. This, lcmesa wanted very badly to prevent, in order to avoid costly control devices and expensive injunctions, including the need for more skilled workers. Minimal spills of dioxin in the atmosphere, on the contrary—so thought presumably the managers—would be unnoticeable in the poisonous cocktail of an industrial area's air. The news of the major spill of July 10 must have been chilling for those who knew the danger. Three Icmesa managers, Mr. Von Zwhel, Mr. Paoletti and Mr. Radice, were arrested (and paroled) soon after the explosion and indicted with causing a criminal disaster. Similar charges have been pressed against Dr. Ghetti and his colleague in the local health office and against the mayor of the town where Icmesa is located.23
The responsibility goes further. The health and labor department apparently knew nothing of what was going on at lcmesa.24 25 26 As far back as 1972, an official request to disclose a detailed list of the chemicals, the processes and the resulting fumes involved in the Icmesa production, had been filed by an environmental protection agency newly established in the region. It took three years for the management to comply (it had been given a month) and its list was incomplete and deceptive. No inspection took place until after the explosion. It is claimed that, if the labor inspectors should visit more than perfunctorily every single shop—and the small ones are often the worst—they could only come back for a recheck after perhaps fifty years. This may excuse the inspectors, but not the politicians who are supposed to redress the inadequacies of the law, nor the high executive officers in charge of coordinating the various control agencies. 
Besides the local managers and officers—the easiest to catch—others should have known of, and were responsible for the Icmesa production. although outside the Italian jurisdiction, Mr. Waldvogel, Mr. Sambeth and Mr. Moeri of Givaudan have been also indicted with causing a criminal disaster.27 This has not prevented their bargaining with the Italian government and releasing interviews while, of course, continuing their business between Italy, Switzerland and other parts of the Hoffman empire. To the Swiss press, Givaudan's president Mr. Waldvogel boasted in July "we'll pay everything" and Hoffman-La Roche president Mr. Jann echoed in August "we have enough financial resources for a total indemnification." Precedents, however, are not encouraging. In 1973 the British government, after years of litigation with Hoffman-La Roche, was able to prove substantial embezzlement in the complex accounting between local firms and their Swiss headquarters, but unable to obtain any refund to the British public.28
A History of Horrors
 When asked about the use of Icmesa's product, TCP, one Givaudan officer said it was for cosmetics and another said for defoliants. This TCP, given the production methods used, was so dirty with dioxin that its inclusion in cosmetics should be unthinkable, and only slightly less horrifying for defoliants. Sale of such defoliants would also raise problems, since the maximum concentration of dioxin legally tolerated in most countries, including Italy, has long been at least a hundred times lower (in Switzerland a thousand times lower) than it was presumably in the Icmesa product. Many countries have banned such TCP-based defoliants after the Vietnam war. But dirty defoliants are cheap. Unscrupulous or uneducated farmers welcome this sort of defoliant in Italy they buy it in unmarked bags for their rice paddies—but the main traditional outlet for such products has been the Third World. 
Ecocide and genocide go hand in hand. The history of dioxin and defoliants has been mingled with recent military history, from Vietnam's to Brazil's jungles and from colonial Portugal to South Africa. Between 1969 and 1972 two U.S. commissions,29 30 one from the American Association for the Advancement of Science (AAAS) and one from the National Academy of Science (NAS), has tried to collect data concerning use and effects of defoliants in South Vietnam. In spite of political interference, such work led to Congressional stoppage of defoliant use in Vietnam in 1970; to its international ban from all military operations (Geneva agreement, 1972); and to stricter standards and partial bans for agriculture in the U.S. and elsewhere.31 The Pentagon, however, officially knows nothing about dioxin. One year later an imaginative businessman from New Jersey, Arnold Livingstone,32 tried to buy the $16 million leftover stock of "agent orange" from the U.S. Air Force to resell it in Latin America and South Africa; the deal was stopped just short of its conclusion by bad publicity. 
Military and business ignorance—or secrecy—go hand in hand. Estimated yearly production of defoliants in the U.S. between 1960 and 1970 has soared from 33,000 to 175,000 tons. While global production of defoliants is hard to assess because of business secrecy, its size has obviously resulted in dioxin exposure not only of unaware people and cattle, but also of the workers who, equally unaware, handle such production. From a series of known—but quickly hushed up—industrial accidents in the U.S., Germany, the Netherlands, France and Britain, some reports concerning occupational diseases due to dioxin are to be found in specialized medical journals. The companies' archives (like the military's), if they deal with such trivial matters, are not accessible to the public. 
Publicity cannot be avoided, however, when a lady is killed by defoliant in her villa in France, precious race horses are poisoned in Missouri, or a major disaster occurs, such as in Seveso, in an advanced industrial country. Industry's response, then, has been traditionally two-fold: first, plants hit by publicity are closed, while an improved technology is claimed to produce more expensive, but clean products; second, sweatshops like Icmesa multiply, making cheap dirty products in a semi-clandestine manner. 
Progress in our chemical understanding of the environment has proved indispensable to identify and to fight actual or potential hazards. Botanist A. Galston,33 for instance, has warned since 1969 against the public danger involved in deforestation of the paths for power lines throughout the U.S. It has appeared clearly in this case that often the distinction between dirty and clean defoliants is meaningless. Both are easily converted in nature into pure dioxin at sufficiently high temperature, such as by forest fires or by burning treated wood in your kitchen, fireplace or campfire. Dioxin can also reach humans through the animal food chain. 
The economic value of such defoliants and herbicides has been challenged by I. Oka and D. Pimentel,34 who showed that treatment of corn reduces the food value of the crop and makes it more susceptible to insects. Thus, demands for chemical fertilizers, pesticides and defoliants—many of them environmental hazards—reinforce each other.35 Sure enough, dioxin has now been detected in human milk in this country.36
As scientific and legal battle against chemical hazards multiply, some environmentalists have concluded that "the enemy is us." Others, while engaging in such battles, are learning to extend their concern for the human environment to its social components and to the economic and political forces that are responsible for its technological distortion and degradation. 
Environmental (and Other) Blackmail 
Too many scientists try to measure what is the maximum tolerable level of a poison, like dioxin, which should be zero; what is the best treatment for exposed people or animals, which is to prevent or at least stop their exposure; or what is the best reclamation technique, which is not to produce the poison. Many scientists are inclined to seek technically brilliant solutions within the terms of the problem which they are given. 
The demand for defoliants can be checked to some extent by the law. Laws may force firms to install purification devices and even to keep them operational. Existence or lack of enforced standards finally determines how much and where dirty or "clean" defoliants are sold. Adequate laws, however, cannot be enacted or enforced because business forces people to accept dirty and dangerous jobs for themselves, polluting industries for their communities' development, and contaminated products for their consumption. Confusion, ignorance and fear are fostered by as much religious, scientific, legal, economic and political deception as big business is able to command to support its environmental blackmail. 
After the tragedy of Seveso, under the pressure of an outraged population and an alerted public opinion, better laws may be enacted and better means can be found to enforce them at the local, national and international level. A more comprehensive understanding of our chemical environment, inside and outside factories, may be developed. Scientists may learn to denounce loudly and clearly false problems and wrong solutions in real life, with the intellectual rigor, imagination and persistence they display in their professional capacities. Progressive people of all nations may learn from Italian groups—such as those that have inspired this article—and help them to do what is to be done. But all this may not be enough to break the international vicious circle of environmental blackmail. For this purpose, scientists may have to learn to develop democratic forms of organization that prevent science from being used against the people. Scientific and other specialized knowledge must be combined with all the power, the intelligence and the experience of the real world which the people, oppressed and exploited through social and economic inequalities, can command.
REFERENCES