This essay is reproduced here as it appeared in the print edition of the original Science for the People magazine. These web-formatted archives are preserved complete with typographical errors and available for reference and educational and activist use. Scanned PDFs of the back issues can be browsed by headline at the website for the 2014 SftP conference held at UMass-Amherst. For more information or to support the project, email sftp.publishing@gmail.com
Don't Breathe the Air on Morningside Heights
by Robert Hedges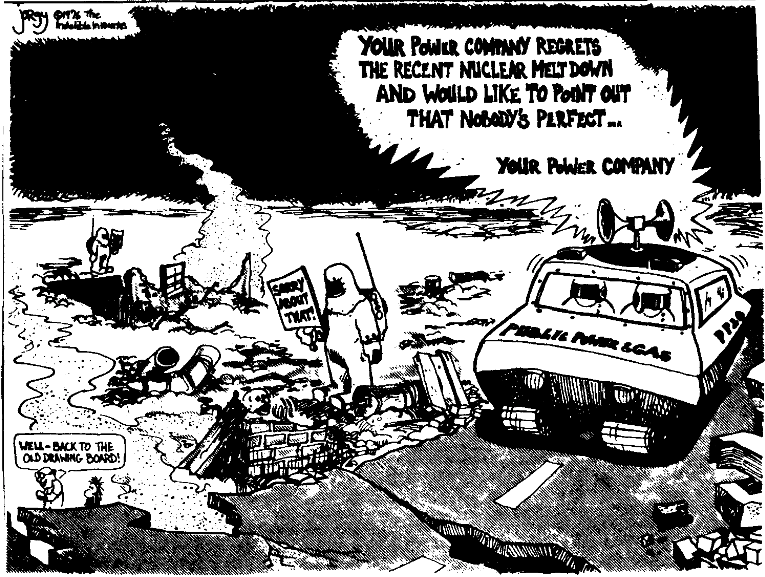 Columbia University is planning to activate a nuclear reactor on its New York City campus. It is designed for teaching and research and would not produce power for either the city or the university. Even though it is small, rated at 250 kilowatts, it can be pulsed to 2500 kilowatts. The basic facility was built some six years ago, but the radioactive fuel rods have not yet been installed. 
The Ad Hoc Committee Against Columbia's Reactor has been fighting the activation of this reactor for six years. We consider the reactor a real threat to the health and even the lives of the people living and working in this densely populated community. We have testified against the reactor in the courts, and before hearings of the Atomic Energy Commission. We took our case to the Supreme Court to petition for a writ of certiorari (a writ of a superior court calling up the records of a lower court) which would have required Columbia to conduct an environmental impact study. Unfortunately, we lost the decision with only Justice Douglas dissenting. This action cost us about $2,000. An appeal for justice is not cheap. 
We have also presented our case before many community groups, including labor unions whose members work for Columbia on Morningside Heights. We have supplied data for several articles on the reactor which have appeared in the Spectator, Columbia's undergraduate newspaper. We have circulated information to the Columbia teaching staff, not all of whom even knew about the reactor, and we also delivered a protest letter with 300 staff signatures to Columbia President William McGill. 
We are now working with elected city officials to pass legislation which could block activation of the reactor. Recently, the New York City Health Department's Bureau of Radiation Control enacted an amendment to the City Health Code requiring Columbia to obtain a license from the city as well as from the federal government before the reactor could be activated. While this amendment will not necessarily stop the reactor, it does at least demonstrate that city officials are concerned about the dangers involved, especially because they are to some degree responsible for the reactor's safe operation. 
Why are we alarmed? Why have many of us who live near the reactor site spent so much time and money fighting it? Without even considering the possibility of a catastrophic accident, which would immediately release lethal doses of radiation into New York City, we believe that the reactor would endanger the health of our community even when operating normally. For example, Columbia has admitted that radioactive argon-41 would be released into the atmosphere through a stack or chimney built for that purpose. This gas would descend to street level where people would breathe it into their blood through their lungs. Columbia's engineering professors maintain that argon-41 is not a significant health threat because it would only be released in small amounts, and its half-life is only five hours. The gas does not, however, disappear entirely. Other sources of radioactive emissions include the heat exchange unit, radioactive wastes, etc. 
We believe that any increased radioactivity in the environment is not good for human beings, and that the amounts of argon-41 expected to be released by the Columbia reactor would be a very significant health threat. Studies by Dr. Ernest Sternglass of the University of Pittsburgh, by Dr. Gofman and others, indicate that argon-41 could be especially dangerous to unborn fetuses and young children. These studies suggest that argon-41 can increase the incidence of stillbirths, leukemia, and death during the first year of life. In addition, the radioactive gas could effect the genes of adults of childbearing age, producing damage that would not become apparent for several years. The time lag between exposure to radiation and observable evidence of damage to health is similar to the lag for asbestos poisoning: People do not drop dead immediately.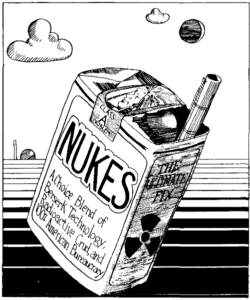 All of these dangers would accompany the operation of a reactor in perfect condition, by human beings who never make a mistake. As we all know, nothing designed, constructed or operated by people can be guaranteed against human error. Recall for a moment the sinking of the "unsinkable" Titanic, the astronauts who died on the launching pad, the failure of the Teton dam in Idaho, and the Hindenburg explosion. The short history of nuclear power reactors already bears testimony to the fact of human fallibility. Many examples of near catastrophes can be found which are clearly assignable to human error in the design, construction and operation of nuclear power plants. 
Columbia President McGill defends the reactor in the name of academic freedom. He claims that Columbia needs the reactor as a teaching tool for young engineers. But according to our information, only 20 students would receive instruction with the reactor. McGill's argument seems to be that literally thousands of people must accept a serious risk of damage to their lives in order that Columbia may bask in the "glory" of having a nuclear reactor on its center city campus, for the training of only a handful of students! This is another example of Columbia's elitist relationship to the community. 
So far we have been successful at least in delaying the activation of the Columbia reactor. But we are up against the considerable power of Columbia University and the $100 billion nuclear power industry. We welcome your support. 
Robert W. Hedges
Treasurer
Ad Hoc Committee Against
Columbia's Reactor
547 Riverside Dr.
New York, NY 10027
(212) 666-2473 
Update
Columbia University was granted, in mid-April, a provisional permit by the Nuclear Regulating Commission (NRC) to activate a TRIGA nuclear reactor on its campus in New York City. However, the City of New York, through its Bureau of Radiation Control and Department of Health has denied a city license to Columbia! But this may not be the end of the fight if Columbia and the NRC decide to take the issue through the courts.
Robert Hedges has lived in the Morningside Heights section of Manhattan for over twenty years, and is a veteran community activist. He has been a leader in the fight against Columbia University's reactor.