This essay is reproduced here as it appeared in the print edition of the original Science for the People magazine. These web-formatted archives are preserved complete with typographical errors and available for reference and educational and activist use. Scanned PDFs of the back issues can be browsed by headline at the website for the 2014 SftP conference held at UMass-Amherst. For more information or to support the project, email sftp.publishing@gmail.com
Local 1199
by Diane Christoferso & Mark Geiger
On November 30, 1973, 200 employees from George Washington University Hospital demonstrated in the hospital lobby to demand that the hospital administrator arrange for a Union 1199 representation election for approximately 750 clerical, technical, and nursing personnel.1 After refusing to meet with a delegation from the group and the local 1199 D.C. regional representative, the administration called in the police to deal with the remaining demonstrators. Fifty-five workers were arrested on criminal charges of unlawful entry. Later, 24 demonstrators were fired and 47 others were suspended for 5 days without pay. 
For two and a half months the administration refused to drop the criminal charges and pressured the Assistant District Attorney to prosecute. On February 26, however, after a lengthy six-day trial, the demonstrators were acquitted.  
Local 1199 is the National Union of Hospital and Health Care Employees and has been actively organizing George Washington Hospital for more than two years. Workers are organizing to secure improved working conditions and better patient care. People have been drawn to the union on demands for higher pay and regular cost of living increases. (Starting pay for most secretaries is $6500 when Washington D.C. is one of the country's most expensive cities to live in.) Other conditions under fire include poor benefits, fairly expensive and non-comprehensive medical insurance which is paid for entirely by employees, chronic short staffing, and poor opportunity for advancement. Supervisors are often brought in from the outside rather than promoted from within. Many departments feel the squeeze of short staffing, making necessary long hours and double shifts in order to care for patients. The heart station, which among other things is responsible for taking electrocardiograms, had its staff reduced by 2 ½ persons per week while the work load has increased. One consequence is a lengthened waiting time of up to two hours for EKG's. The administration seems much more concerned with saving money by decreasing staff, paying the bare minimum and excluding needed benefits, than with the quality of patient care. 
In leafletting, talking, and meeting with the hospital workers, the union organizers have encountered some reluctance, particularly among upper level paraprofessionals: 
reluctance to engage in a strike or other work stoppage as an effective bargaining tool because of concern for patient care.

a dislike for the policies of other unions and their lack of worker control (teamsters).

suspicion that a union would induce featherbedding. 
This fear has been ameliorated in part by the fact that most of the organizing committee members and strongest supporters are hard workers, and many of their demands for adequate staffing, seniority, and in-service training would enhance patient care. More generally, union organizers must work against attitudes of individualism encouraged by the hierarchial structure of the medical professions. Collective activity is regarded as a "cop out" for those without the individual talent or willingness to advance by their own merit. 
Union activity has slackened at George Washington; the organizing problems include more than those attitudes noted above. Time is a crucial factor in strategy. On several occasions the union organizers were unable to immediately capitalize on discontent or a swell of prounion support. Many people have not been willing or able to maintain a long term commitment to activism. Many of the best young workers are heavily involved academically often working full time and going to school at night permitting little time and less energy for frustrating union activities. Alternative commitments, including a very intense commitment in time and energy to our work, deflect from constant organizing activity. It is critical that we realize that in the long run the best way to produce good work is to have decent working conditions and good pay which a union should help establish. 
At George Washington the conditions are still present for union activities. There is still a core of people working for the union. The passage of an act incorporating hospital workers under the protection of the National Labor Relations Act in July was very encouraging. Perhaps that legislation will lend support to whatever unionizing activities continue at George Washington.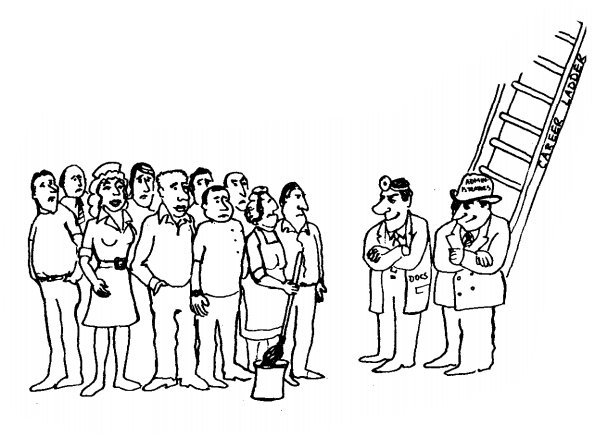 See "Technicians and 1199," Science for the People, Vol. VI, No. 5, Sept., 1974.