About This Issue: Or how to get by with a little help from your friends!
by The Editorial Collective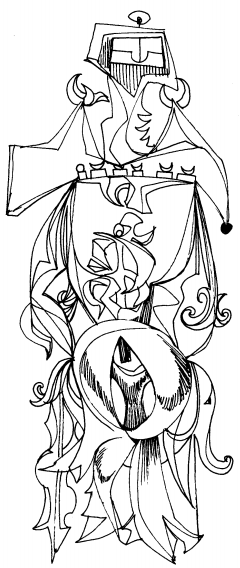 "Hegel remarks somewhere that all facts and personages of great importance in world history occur, as it were, twice. He forgot to add: the first time as tragedy, the second as farce." (from The Eighteenth Brumaire of Louis Bonaparte by Karl Marx)
So history repeats itself. And following in the tradition of the past October editorial collective, we
find that our numbers are few (diminished from seven to two in this case.) However our lack of great numbers precluded, of necessity, a deep sense of intimacy and involvement with this issue. Neither of us had previous experience on past collectives, and so, for the most part, the whole process of putting out this magazine, (see September editorial statement for details), was new, exciting, (inciting!) and initially, a bit overwhelming. But we finally did it, due to much criticism, support, confidence and labor on the part of several people. And in time, a solidarity born of common struggle, and a posture of historical continuity with the movement, were generated by such phenomena as personal contact and collective, teleological work, among others, in a very beautifull and meaningful way.
However, as the months passed, a fundamental predisposition and strategy became so compellingly evident. A movement in the process of struggling and growing towards collective ends, can and will not prove fruitful sans a collective consciousness raised by, and in turn giving rise to, collective participation throughout the entire gamut of the endeavor.
We need people to write articles, to subscribe to and distribute the magazine, to participate in political activities, and to help in any way, shape, or form that they so desire.
So here it is. Brought to, for, with, and because of you, via a "little (lot of) help from our friends." (Whether it be farce as Marx implied, is of course, another issue . . . the December one maybe?)
EDITORIAL COLLECTIVE: Anne Sevin, Jeanne Wisniewski
CONTRIBUTORS: Howard Barth, Selina Bendix, Britta Fischer, Herb Fox, Colleen Meier, Al Weinrub, Gar Allen, Ken Ziedman
DESIGN AND LAYOUT: Alphabet
EDITORIAL PRACTICE: Each issue of Science for the People is prepared by a collective assembled from volunteers by a committee made up of the collectives of the past calendar year. A collective carries out all editorial, production, and distribution functions for one issue. The following is a distillation of the actual practice of past collectives.
Due dates: Articles received by the first week of an odd-numbered month can generally be considered for the magazine to be issued on the 15th of the next month.
Form: One of the ways you can help is to submit double-spaced typewritten manuscripts with ample margins. If you can send six copies, that helps even more. One of the few founding principles of SESPA is that articles must be signed (a pseudonym is acceptable).
Criteria for acceptance: SESPA Newsletter, predecessor to Science for the People, was pledged to print everything submitted. It is no longer feasible to continue this policy, although the practice thus far has been to print all articles descriptive of SESPA/Science for the People activities. Considerably more descrimination is applied to analytical articles. These are expected to reflect the general political outlook of Science for the People. All articles are judged on the basis of length, style, subject and content.
Editorial Procedure: The content of each issue is determined by unanimous consent of the collective. Where extensive rewriting of an article is required, the preference of the collective is to discuss the changes with the author. If this is not practical, reasons for rejection are sent to the author. An attempt is made to convey suggestions for improvement. If an article is late or excluded for lack of space or if it has non-unanimous support, it is generally passed on to the next collective.
Editorial statements: Unsigned articles are statements of the editorial collective.
Opportunities for participation: Volunteers for editorial collectives should be aware that each issue requires a substantial contribution of time and energy for an eight-week period. Help is always appreciated and provides an opportunity for the helper to learn and for the collective to get to know a prospective member. There are presently plans to move the magazine production to other cities. This will increase the opportunity for participation. For legal purposes Science for the People has become incorporated.